8:30 P.M.

From the ballroom, you hear the all time muppet classic, "Mnah mnah."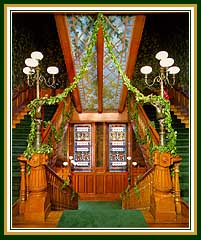 Wellman charges into Smythe's bathroom. Through the door, you can see him clawing through the medicine cabinet, knocking things to the floor.
Icy Hot and the Viking emerge with Bernadette from her bedroom. Icy throws his arms around the Fairie Queen, Red Sonja and the Sexy Vampire and says, "You ladies up for a little skinny dip action?"
The Fairie Queen pulls away from him and says, "Get your hands off me, vermin! Alicia, help me!" Then she grabs the Sexy Vampire and pulls her into Smythe's bathroom.
"It's not like I ain't seen you naked, bitch!" Icy calls after the Fairie Queen, then he follows the Viking and Bernadette down the stairs as you step through the northernmost door on the east side of the hall.
You enter a tidy office with framed prints and photographs on the wall, a large mahogany desk, file cabinets, a computer, and other office accoutrements. You notice a framed photo and several files on the desk.
There is an open window in the north wall, with what seems to be the top of a ladder leaning against the outside sill.
There is a door hanging open to the south, which seems to lead into a bathroom. By the door, you notice a hypodermic needle lying on the floor.
Outside, you hear a siren pulling up to the front of the house.
If you're so nosey that you open a file on the desk and skim through the contents, click here.
Click here to switch to Red Sonja.