9:10 P.M.

Iggy Pop's "Lust For Life" from the most excellent "Trainspotting" soundtrack blasts from the ballroom.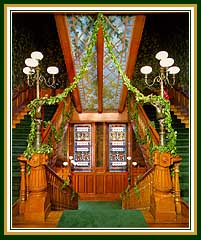 You stand and do nothing.
The Grim Reaper and the Sexy Vampire help the paramedic carry the Fairie Queen through door #4, which apparently leads to the master bedroom.
Red Sonja emerges through door #2, which apparently leads to a bathroom.
To follow the walking wounded into the master bedroom (door #4), click here.
Click here to switch to Red Sonja (Avengelyne).