bait shop news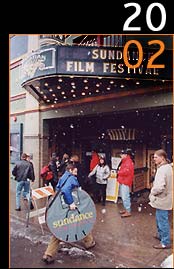 Well, by any yardstick, the big Bait Shop News would have to be Sundance, as in Butch Cassidy, as in Robert Redford, as in the big film festival in Mormonville, USA.
Yes, for the first time in my nonsensical show biz career, I'm going to the Sundance Film Festival, as co-screenwriter (with director Jed Weintrob) of a film that's actually IN the festival...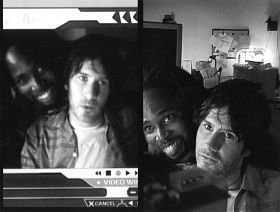 ON_LINE -- starring Josh Hamilton (Kicking & Screaming, House of Yes), Harold Perrineau, Jr. (Oz, The Matrix 2), Isabelle Gillies (Metropolitan), Eric Millegan (Broadway's Jesus Christ Superstar), Vanessa Ferlito (The Sopranos), and John Fleck (Enterprise, the N.E.A. 4) -- is the film in question, and, of course, there will surely be further updates about all the fierce studio bidding wars and whatnot in future episodes.
In the meantime, you can check out the moment to moment happenings with Team On_Line at the official movie site or the official Sundance site (although the official Bring It On website will bring you nothing but cheerleading trivia and digital images of the lovely Kirsten Dunst).
In other news, the Bait Shop is currently producing NO LOVE, a new digital video feature in the zero budget spirit of Puke, as opposed to the zero-budget-but-still- more-money-than-I-had spirit of Apocalypse Bop.
Ah, but what next for the embattled Bait Shop? Stay tuned, faithful viewers, stay tuned...