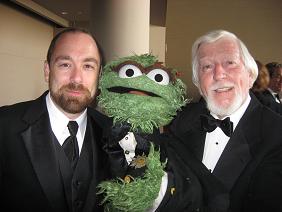 ANDREW OSBORNE
Biography
Andrew Osborne received a B.A. in English from Harvard University in the spring of 1991. While in college, he was a comedy writer for The Harvard Lampoon, an arts reporter for The Harvard Crimson and studied acting with Brian Cox (X2, The Ring), Ken Howard (The White Shadow) and the American Repertory Theater's David Wheeler.
During time away from college, Andrew got his start as a screenwriter at Troma, Inc. on the ultra-low-budget superhero spoof Sgt. Kabukiman, NYPD. After graduation, he moved to Los Angeles, where he studied improvisational acting with Lisa Kudrow (Friends) and Patrick Bristow (Curb Your Enthusiasm) at the famed Groundlings Theater. In 1993, he became a screenwriter for the Motion Picture Corporation of America, where he co-wrote the HBO Original Movies Soldier Boyz (uncredited) and Behind Enemy Lines. He also co-wrote and designed several movie-based games for the company's interactive division, including the murder mystery title Blue Heat, starring Elliot Gould and Paul Sorvino.
In 1994, Andrew directed Apocalypse Bop, an independent feature which premiered at Bostonís Coolidge Corner Cinema in 1996, and has since been released on video through E.I. Independent Cinema.
In 1999, Andrew sold an original pitch to Warner Bros. (which almost became a Lindsay Lohan vehicle, back before Ms. Lohan began having so much trouble with her vehicles).
In 2000, he co-wrote On_Line, an independent feature which screened at the 2002 Sundance and Berlin Film Festivals, followed by theatrical distribution in 2003 and a 2004 video/DVD release.
Together with On_Line director Jed Weintrob, Andrew has collaborated on numerous projects including The F-Word (an independent feature film starring Josh Hamilton which premiered at the Tribeca Film Festival), Awake (a screenplay for Michael Douglas through Joel Silver's Dark Castle Entertainment), Super Vision (a multimedia theatrical piece for the Builder's Association in New York City) and an unproduced project for MTV.
In 2008, Andrew was invited to attend the Yaddo artistís colony in Saratoga Springs, New York for the development of his first novel, and the same year he received an Emmy as a staff writer for the 2007 season of the Discovery Channel game show Cash Cab.
Andrew's other credits include numerous indie films, theatrical productions, computer games and comic books, as well as regular entertainment reporting for Nerve.com. He's also a writing, acting, improv and filmmaking teacher with past and current classes at UCLA Extension, the Tufts University Experimental College, Quincy College, the Cambridge Center for Adult Education, Brookline Adult & Community Education, Boston Casting and the Burt Wood School.
Andrew Osborne currently lives in Boston, where he is a writer for the Image Comics title Blue Estate. The world premiere of his play No Love is currently scheduled for a Fall 2012 production by the Eclectic Company Theatre, and he's closer than ever to finishing the novel he started while earning his Masters degree at the University of Massachusetts.