BAIT SHOPNEWS

Hello, and welcome to the edition of the rarely updated Ol' Bait Shop website.

I won't go into all my various thoughts on the Sept. 11 tragedy...if you want to hear me praising heroes, ranting about dangerous fanatics (Bin Laden, Falwell, etc.) and expounding my various crackpot theories about the Middle East and/or the U.S. government and/or the relative merits of entertainment, irony, organized religion and/or our civil liberties in light of what's happened...just buy me a few drinks and get me going.

Otherwise, I'll let this weird little wishful thinking Spanish cartoon do the talking...
But enough with global current events...let's talk about ME.
For now, I'm at the Casa Norte family compound in the legendary lost city of gold - Middleboro, Massachusetts - where I've spent the past several months teaching drama at P.C.C. and writing CHRISTMAS GIRL, a delightful romantic comedy (which just made it past the first round of selection for the Sundance Institute's renowned Feature Film Program, thank you very much). More recently, I've been working on the script of an EXCITING NEW FILM PROJECT with...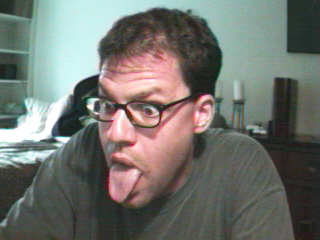 jed, whom long-time fans will recognize as the director of GO WEST and the upcoming feature ON-LINE, co-written by yours truly and featuring the acting talents of, among others, Mr. John Fleck (seen most recently, according to Jed, as one of the weird shape-shifting aliens on the series premiere of ENTERPRISE).
Then, at the end of October, I'm winging back to lovely AUSTIN, TEXAS, home of...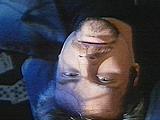 scott, who's still writing trenchant and acerbic (not to mention incisive, sharp and forthright) reviews for CULTURE VULTURE, FILM THREAT and THE FORT WORTH STAR-TELEGRAM when he's not applying for spots on SURVIVOR and THE MOLE. In his spare time, he's also a screenwriter and sometime lyricist for the lovely and talented...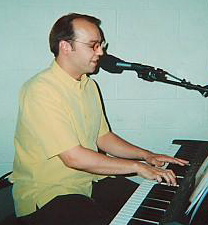 eric, a great teacher, singer and SONGWRITER whose tunes are the heart and soul of the long-awaited MEAT CITY BEATNIKS musical, coming soon to a theater in Austin.
For those of you who don't know, the MEAT CITY BEATNIKS was a short story written by the talented and lovely...

jim, a.k.a. the man who put the socks into SOCKBOX. Anyway, so many moons ago, Jim wrote a story about two screenwriters on the make who wind up on the skids of a fictional city that bears more than a passing resemblance to Los Angeles.
Later, Scott adapted Jim's story into a screenplay, then I adapted the screenplay into a musical (incorporating tunes by the aforementioned Eric Jacobson, with lyrics by Eric, Jim, Scott and yours truly).
Now, at long last, I may have finally worked up the gumption to stage THE MEAT CITY BEATNIKS in 2002...so watch this space for details.
In other news, I may soon be directing a video feature in the Dogma 95 tradition (but without the big Icelandic production numbers or Emily Watson). The project is called NO LOVE, but again...keep watching this space for details.
Also in the Ol' Bait Shop pipeline is a documentary by...

andrea
and...


bebe entitled SKINWATCH,
featuring...


owen
as well as a FEATURE-LENGTH VERSION of my recent 15-minute documentary about the Boston Globe Drama Festival...
...the real life basis for DRAMARAMA, that screenplay I wrote for Entertainment Weekly's hot "It" producer Andrew Lazar last year (before he was officially "It"). Now it seems Warner Bros. has actually hired a DIRECTOR for the project...
...so who knows? Maybe it'll really get made. Maybe America needs a movie about loveable drama club kids right now. Maybe fame, fortune and peace on Earth are right around the corner.
Or not. Stay tuned!




Meet the Chieves Be A Chief The Enchieflopedia